5 Action-Packed Activities to Experience in Marrakech for Land, Water & Air
There's more to Marrakech than its Old Medina and meandering alleyways. The Red City and its surrounding area are filled with action-packed experiences that will exhilarate both young and old. That means there are adrenaline-pumping activities available for everyone to enjoy regardless of their preferences. At Le Farnatchi, we can guide you to these adventures so that you're not only safe and comfortable but also able to make the most of them.
Let's take a closer look.
Marrakech by motorcycle and sidecar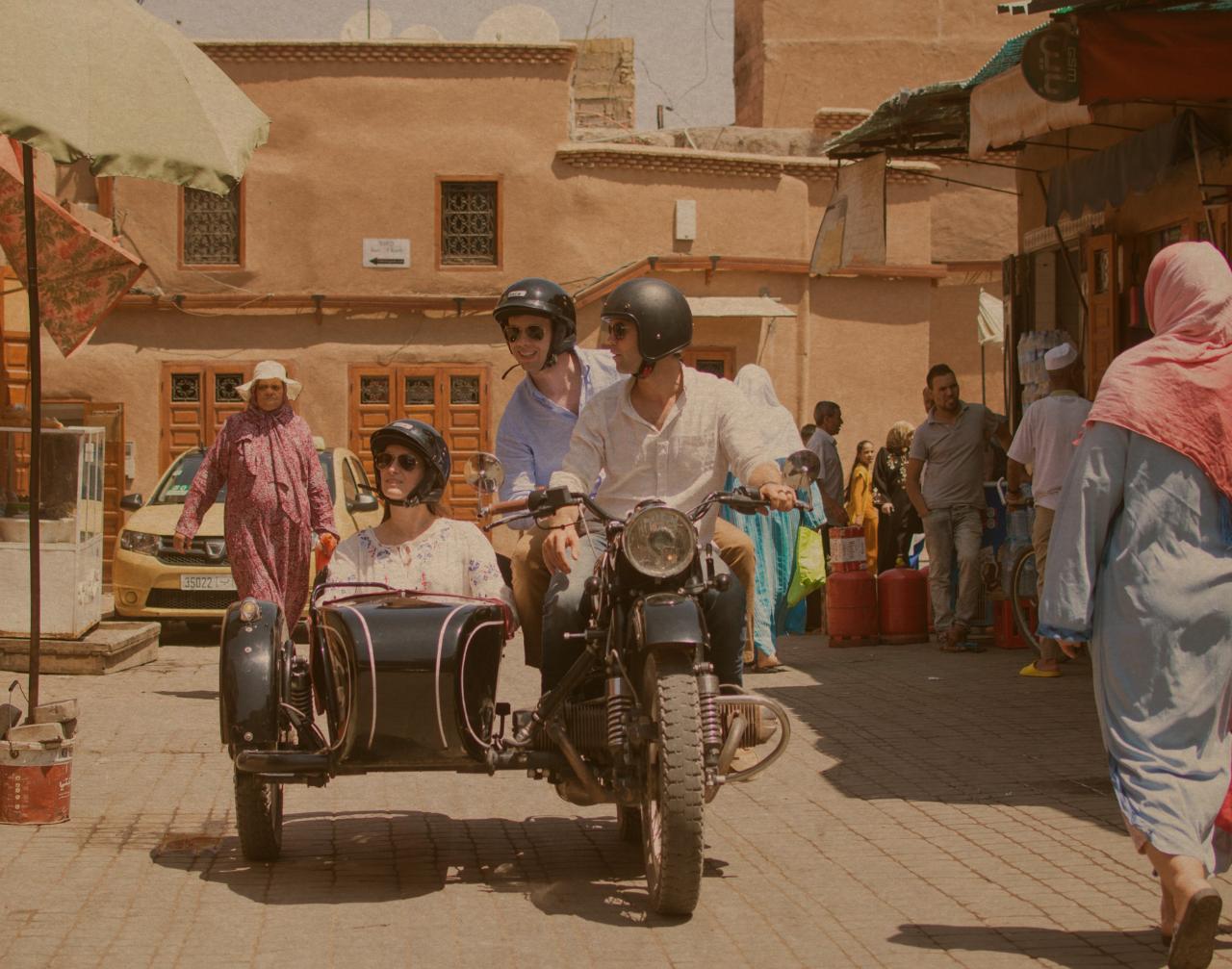 True, we did mention that there are other Marrakech activities to engage in besides navigating through the city itself. But a tour of the city in the sidecar of a motorcycle elevates an otherwise traditional experience. You will zip through the city's narrow and winding side streets. Ultimately, you will see more of the city's historic sights and cover more ground in less time. Since the driver of your vehicle will be the equivalent of a taxi driver, he'll know the city like the back of his hand. You won't have to worry about getting lost in the process of touring the city.
Quad Biking & Dune Buggies
On the other end of the vehicular spectrum is quad biking and riding a dune buggy, which takes place outside of the city. The rolling landscapes outside of Marrakech make these activities ideal for people who love climbs and drops. The anticipation of driving up a mound before being thrown into the air for a few seconds before landing again is thrilling for quad bikers and dune buggy riders. The dune buggies are Predator X-18s. They can reach speeds of 80pmh off-road and withstand some of the roughest terrains including steep slopes, stony dunes and more. Whether you choose the quad biking or dune buggy experience, you're sure to have a heart-pumping, bumpy ride.
White Water Rafting
Marrakech offers water activities available to satisfy your inner thrillseeker – even in the heart of the desert. Just 60 km outside of Marrakech stands the Ourika Valley, and with it, the Ourika River. This river is swift enough to give experienced rafters a kick out of its currents but tame enough for beginner rafters to enjoy themselves. An added bonus for rafters is the surrounding scenery. The snow-capped peaks of the Atlas mountains loom in the background, which will be pleasing to see during more calm moments on the water. There's one other thing to keep in mind: you're most likely going to see local children and residents stand near the river as they watch you raft and cheer you on.
Paragliding
For many thrillseekers, land and sea won't bring many thrills – they were meant to fly. Therefore, one of the most enjoyable Marrakech activities is paragliding. Guided by one of Morocco's most experienced paragliding teams, partakers will leap off of Kick Plateau into nothingness. The anticipation of jumping will resemble going up a rollercoaster track before dropping. However, with paragliding, the jump will give way to a serene drop that provides a sweeping view of the Atlas Mountains surrounding desert and Lake Lalla Takerkoust. Paragliding is not only great for sightseeing and the adrenaline rush but also, an approachable way to conquer one's fear of heights!
Hot Air Balloons
Riding a hot air balloon isn't the most action-packed activity per se. However, when the Earth beneath you gets smaller as you climb higher in this tiny box, it'll put into perspective how small you are compared to the planet. That alone will give you a sheer sense of thrill. With that said, you'll hang suspended over the Sahara desert and take in some of the most expansive and beautiful views of the Atlas Mountains and natural sights of Morocco. Of all Marrakech activities, hot air ballooning will give you the best of the best when it comes to sightseeing.
Marrakech Activities from the Ground Up to the Clouds
The Marrakech activities mentioned here will show you a side of the city (and Morocco as a whole) that you're probably not used to seeing. Yes, there are the squares and markets that the city is known for, but there are several action-packed sojourns that will reveal how diverse the Moroccan landscape is. More importantly, they're a testament to the fact that in the Red City, there's never a dull moment.
For your stay in Marrakech, be sure to stay in an authentic Moroccan riad. Book now at Le Farnatchi.
← Back to all posts